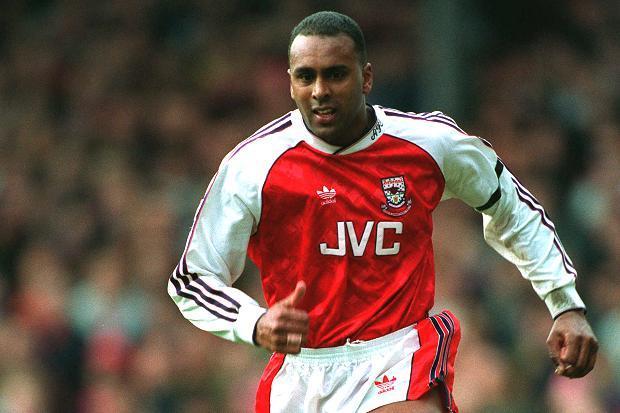 On 31 March 2001, when Arsenal's new No.7 scored a gem of a goal in the North London derby match with Tottenham Hotspur at Highbury, the crowd tearfully remembered one of their favourite sons, who used to wear the same No.7 jersey for the Gunners. Just before the match, more than 38,000 people observed a minute's silence without the faintest interruption after reports came in that David "Rocky" Rocastle had died in the early hours of 31 March 2001, aged 33.

Born in Lewisham, south-east London, Rocastle, a fast, skilled, powerful outside right was one of three players from the same area who played a crucial part in the Gunners' success in the late 1980s and early 1990s. Rocastle joined Arsenal as an apprentice in August 1983, after being rejected by Millwall. He turned professional with the North London outfit on December 31 1984 and remained at Highbury until July 1992.

In his early days at the club, he faced problems with his eyesight, who won 14 caps for England. According to his teammate Martin Keown, "they couldn't work out why Rocastle was running around dribbling with his head down. So they took him to the halfway line and said: 'Can you see the goal?' and he couldn't. His eyesight was terrible. They sorted him out with contact lenses and his career took off."

Rocastle made his debut against Newcastle United in the 1984-85 Season and made 26 league appearances that season. By the time, George Graham took over managerial duty from Don Howe at the end of the 1985-86 season, he had established himself as regular in the first team, as so, he won the 1986 Arsenal Player of the Year award.

On 5 April, 1987, just before his 20th birthday, he won the 1986-87 League Cup winners medal as Arsenal defeated Liverpool 2-1 in the cup final at Wembley. Rocastle was one of Arsenal's best players in that victorious campaign and was rightly bestowed with the honour of being named in the PFA Team of the Year of and won the Barclays Young Player of the Year award.
He played a leading role in Arsenal's conquest of the League Championship of 1988-1989. Rocastle, the clever playmaker Paul Davis and the powerful midfielder Michael Thomas formed a dynamic and resolute midfield, which represented a new and positive trend at Highbury. Arsenal won the title with virtually the last kick of the League season, in extraordinary circumstances. It was one which they had to win by two clear goals to take the title at Anfield and they did with a last gasp winner by Michael Thomas.

Rocastle played 38 games that season, scoring just half a dozen goals. In the 1990-91 season, when Arsenal won the championship again, he played 18 appearances due to a knee injury but he still played more than enough games to win another league title medal with Arsenal, who lost only one game that season. The next season he came back to full fitness and was once again a key member of the first team.

Eyebrows were raised on 23 July 1992, when Arsenal sold fan favourite "Rocky" to reigning league champions Leeds United. The decision didn't go well with the fans, teammates and pundits. In a decade at Highbury, Rocastle scored 34 goals and played 228 times for the Gunners, collecting two league title medals and a winner's medal in the League Cup.

He spent a year at Elland Road, before moving to Manchester City and later to Chelsea. However, he never replicated the form that he showed during his Arsenal day. In 1999, Rocastle went to Malaysia to join Sabah and eventually brought his playing days to an end in December 1999 due to injury.

A year later, Rocastle died from non-Hodgkin's lymphoma aged 33, perhaps never quite came to terms with his ejection from his boyhood club. Arsenal went on to win the match against Tottenham that day at Highbury and everyone celebrated as their beloved "Rocky" punched his way up to heaven.