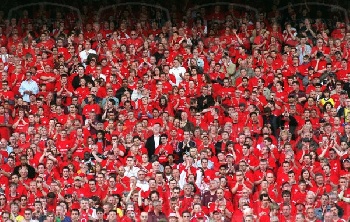 What have Eduardo, Fabregas and Sagna all got in common. They were shrewd Wenger signings, acquired on a shoestring budget and announced before anyone in cyber space got much wind of it. Also, crucially, they weren't rated as world beaters and were unheard of by most gooners when they signed. Fast forward to the present day and we have got ourselves top end footballers who have at least achieved the respect and recognition their talent deserves if not the silverware.
The moral of this story is lets wait and see who Wenger picks up this summer before we panic about our finances, chances of winning silverware or selling Fabregas to Spain etc. Were we to get 1 or 2 more classic wenger esque signings all our perceived troubles would fade into the distant background. A major trophy would take the pressure off Wenger, ease Fabregas into thinking he is at the right club and copper fasten gooner belief that we are on the brink of another golden era. If not then all is not lost. With the seasons opening game against the might of Barnet now only days away my overriding wish for the coming season is that we stay injury free and instead of signing a few more potential wonder kids for the future lets get to see the current bunch blossom.
With Sky Sports giving regular updates on the Adebayor to the Middle Eastland's one wonders who or if we should get a replacement. Having spent 2 seasons in his shadow is it now time for Bendtner to step up to the plate. In the past we were at our most potent with Adebayor and Eduardo up front. It's a little ironic but The Brazilian born, Croatian national seems to prosper most on quick knock downs from a traditional type English centre forward but has joined a club who are looking to play with Brazilian flare and eye for goal.