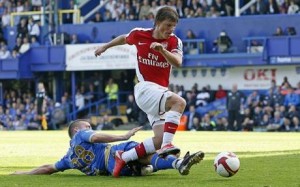 Manchester United boss, Sir Alex Ferguson has admitted that Darren Flecher's tackle was a clear penalty though the referee did call it wrong. On speaking to the club's official website Ferguson said:
"The penalty was a clear penalty," he said. "With Darren Fletcher's challenge, he got the ball. The referee was ten yards away and called it right. It was a committed challenge by Darren. If he was a fraction out it would have been a penalty, but I think it was the right decision, no doubt about it."
Arshavin was tackled by Darren Flecher when he tried to enter into the six yard box two minutes before the halftime but the referee Mike Dean waved that it was not a penalty.
surprisingly, the camera pointed to Eduardo da Silva who is reported as had given a referee a wrong decision by diving into the penalty box on Wednesday's Champions League play off against Celtic which the Gunners won 3-1 (5-1 on goal aggregate).
Video replays show that Arshavin was supposed to be awarded a penalty. As there is nobody to overcome God's grace, Arshavin scored 30 secs after the incident before Rooney's second half free penalty and Abou Diaby' lack of heading experience which make the hosts to secure 2-1.
Therefore, everybody is now eyeing on UEFA body if it is also going to intervene by reviewing the video replay and turn on referee's decision as it is doing for the Eduardo's scene.
Mike Dean is not a very good referee. He was just flipping out cards up to the total of 8. But when Darren Fletcher wiped out Arshavin, he waved away as though the pair had just been cheering each other. If what I heard is true, that he is a Manchester United fan, and he shows it, then there is no reason for Arsenal fans to worry but think about next game.
Arsenal has quality this season and no matter what it is the end of their four season trophy drought. It is sad to see other people including the media playing a major role in preconceived notion against the Gunners the thing that will not help but get embarrassed at the end of the season due to the Army's good outcomes.
Wenger must make inquiry for that game and justice should prevail. Gunners have tied with get biased and now is time to see what is really happening.