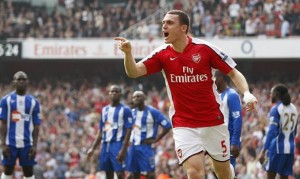 Football experts doubted Arsenal's chances after somewhat disappointing last season but Arsene Wenger's men have had pretty good start of the season. They are doing well on all fronts and everybody at the club are hoping to end the trophy drought this term. Premiership title race is definitely the priority but we also have a good chance to fight for trophies in all other competitions.
Probably the biggest reason for such a good results this term is Wenger's decision to switch to 4-3-3 formation that is working like a charm. Song Bilong has been impressive as a holding midfielder and his excellent defending skills allow both full-backs and other midfielders to go forward without any pressure of being forced to return to their own half as soon as possible once the ball has switched possession. Fabregas and Rosicky thus have more freedom to roam forward and no wonder the Gunners are scoring so many goals this term.
The arrival of Thomas Vermaelen has added a lot of stability to usually shaky defence and he now forms a formidable partnership with William Gallas. It is interesting that the boss opted to use Van Persie as the tip of the three-man attack, but only because the Dutchman usually drops deep and creates space for his teammates coming from the wings and midfield. As a result, Arsenal are leading the soccer stats charts with 29 goals in 9 league games and the interesting thing is that no less than six players scored 3 goals or more.
The situation with injuries is also improving as Rosicky, Walcott and Nasri are back in contention and Wenger finally has big enough squad to cope with the busy schedule. He will definitely need all the key players fit if the Gunners are to challenge for trophies this season. At the moment, Arsenal are looking very good and the team are playing with a lot of confidence, which is a very important thing. The team are also very consistent and if they keep their current run of form, then anything is possible. All things considered, this looks like a promising season for the Gunners.